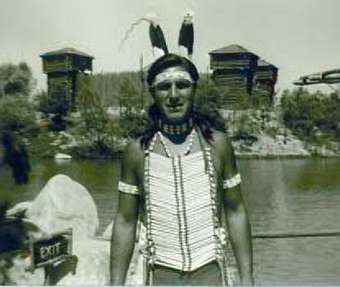 This is Eddie Little Sky. He used to dance at the old Indian village in Disneyland, which is where this photo was taken.
I had a crush on him when I was a young girl and he became the inspiration for all my Indian heroes.

THE LATEST NEWS ~
I finished Bohannon and sent it off to my publisher. It will likely be published sometime in July of this year. I love this story and this hero. You can get a look at the story by clicking the COMING SOON link at the bottom of the right hand column.
REMINDER: Kane is available in Kindle and print. I love the story and the cover. Another great look by Cynthia Lucas. You can read Chapter 1 by clicking on the link in the right hand column.
My Alter Ego, Amanda Ashley is currenty working on a new book, but hopes to write another Western soon.
Hope 2023 is being good to you.
OLD NEWS ~
I sold several of my books to Mondadori Publishing. The first two of these, Cheyenne Surrender and Hawk's Woman, are now available in Italian.
My vampire/Indian/time-travel book, SECRETS IN THE NIGHT, is available now. I loved writing this book as it has all the elements I love best!
ASHLEY NEWS ~
These are the latest books. Currently working on a new one.
ENCHANT THE DAWN
MIDNIGHT ENCHANTMENT
TWILIGHT DESTINY


2015 Received the Romantic Times Booklovers Career Achievement Award in Paranormal Romance.

2013 NIGHT'S MISTRESS is the winner in the Fiction Romance category of USA Best Book Awards sponsoredby USA Book News

2012 BOUND BY BLOOD wins ACRA Heart of Excellence contest

2011 EVERLASTING DESIRE wins Best Paranormal in the Volusia Romance Writers Laurel Wreath contest.

2011 EVERLASTING KISS wins ACRA Heart of Excellence contest

2010 IMMORTAL SINS wins Best Paranormal in the Volusia Romance Writers Laurel Wreath contest.

2010 EVERLASTING DESIRE wins USA Book News Contest for best romance

2004 CALLIE'S COWBOY voted Best Silhouette Romance of 2004 by CataRomanceonline.

2003 MIDNIGHT EMBRACE won the Desert Rose Golden Quill for Best Paranormal

2002 CHASE THE LIGHTNING won the Aspen Gold Contest for Best Paranormal from the Heart of Denver Romance Writers

2002 CHASE THE LIGHTNING won the OCC Orange Rose contest for Best Paranormal

2002 CHASE THE LIGHTNING, won the Desert Rose Golden Quill for Best Paranormal

2001 AFTER TWILIGHT is voted Best Paranormal Romance by the readers of Loves Romances.com

2001 AFTER TWILIGHT wins the online PEARL award for Best Anthology

2000 UNFORGETTABLE won the Orange Rose contest for Best California setting

1999 Romantic Times Career Achievement Award—Historical Storyteller of the Year

1995 THE SPIRIT PATH won the Paperback Trader's Romance Readers Award for Best Indian historical for the second time.

1994 LOVING DEVLIN voted Best Indian Historical by the Puget Sound Romance Readers

1993 THE SPIRIT PATH won the Paperback Trader's Romance Readers Award for Best Indian historical

1993 My hero, Jarrett, from WARRIOR'S LADY, was awarded a K.I.S.S. award from Romantic Times Magazine

1992 MIDNIGHT FIRE won the Colorado Romance Writers Award of Excellence

1991 WHISPER IN THE WIND won Affaire de Coeur's Golden Unicorn Award for Best Time Travel

1988 RECKLESS HEART, RECKLESS LOVE, RECKLESS DESIRE won the Romantic Times Reviewers Choice award for Best Indian Series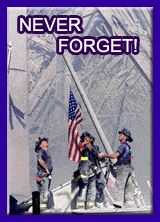 SOME OF MY FAVORITE QUOTES ~

"If it can be solved, there's no need to worry, and if it can't be solved, worry is of no use."
The 14th Dalai Lama

"Preach the Gospel at all times and,
if necessary, use words."
St. Francis of Asissi

"God and soldier, we adore, in time of danger, not before.
The danger passed and all things righted,
God is forgotten and the soldier slighted."
Rudyard Kipling

"Having more money doesn't make you happier. I have 50 million dollars, but I was just as happy when I only had 48 million."
Arnold Schwarzenegger.

"As I hurtled through space, one thought kept crossing my mind - every part of this rocket was supplied by the lowest bidder."
John Glenn

"Some people feel the rain. Others just get wet."
Bob Marley